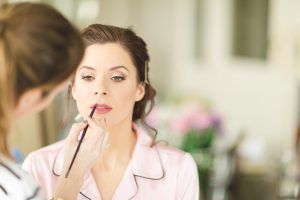 Services
Whether you are looking for a professional makeup application or an eyelash treatment for a special occasion, wedding day or a night out to celebrate, I can accommodate you. These are the services I specialise in, please get in touch if you have any questions or would like to make a booking.
Wedding Makeup
Having worked on many weddings, I understand that timing is key the morning of your big day. I will work out a schedule to ensure everything runs smoothly and you are ready with plenty of time to relax and take some family photos. I will work with you to customize a look that suits your personality & theme of the wedding, look great in your photos and last all night! I can also stay with you until you are in your dress and ready to leave for your ceremony, so that I am on hand for any last minute touch ups.
BRIDAL MAKEUP PRICE LIST
Bridal Trials
Trial for Brides – €70
Bridal trials are held in my studio in Belarmine, Dublin 18 and are based on a 1.5hr appointment time.
Trials for Bridesmaids, Mother of Bride / Groom etc. are also available and are to be carried out at the same time of bride's trial if possible.
Trial for Bridesmaids & Mother of the Bride/Groom – €60
*Must be booked as a group with the Bridal Trial
On your Wedding Day
(Prices below do not include a trial)
Bride + 2 faces – €225
Bride + 3 faces – €300
Bride + 4 faces – €375
Bride + 5 faces – €425
Bride + 6 faces – €475
Any additional guest makeup must be pre-booked
*Additional travel charges apply to locations outside Dublin
*Additional parking charges applies to all city centre locations & locations with pay & display parking
*A non-refundable booking retainer is required for all weddings
Overseas Weddings
Bridal Makeup Lesson – €140 
Lessons are ideal for any brides getting married abroad who will be doing their own makeup on their wedding day
I also travel for overseas weddings so please get in contact for prices and travel costs.
Makeup Application
Have your makeup professionally applied and customized to suit your occasion. Ideal for a special occasions, gala dinners & balls, awards ceremonies, debs, graduations, hen nights, birthdays or just a Saturday night out! I also cater for large groups and hen parties!
Cruelty free makeup requirements also catered for – the brands I mainly use in my kit include Charlotte Tilbury, Danessa Myricks, Anastasia Beverly Hills, Natasha Denona & Sculpted by Aimee Connolly. All these brands are cruelty free.
SPECIAL OCCASION MAKEUP PRICE LIST
In Studio – €50 
House/Venue call out charge – €70 
*travel / parking charges may apply 
Makeup Lessons
Talk through makeup application – €65
I will apply your makeup and explain what I am doing as I go along
One on One lesson in Studio (approx 2hrs) – €140
Group Lessons & Masterclasses on location – €65pp*
Demo only Masterclass on location – €45pp*
*Minimum booking requirements of 4 people
Lash Lift (LVL) Price List
Lash Tint Patch Test (required 48hrs prior to treatment) – Free
Lash Lift & Tint – €55
Lash Lift, Tint & Treatment – €60
Finish your lash lift with a nourishing filler that also
strengthens and fully fixes the Lash Lift curl. Like
Olaplex for your lashes!

Organic Lash Lift, Tint & Treatment – €70
No harsh chemicals – safe to use while pregnant and breastfeeding
Lash Tint – €10
Lash Tint & Treatment – €15
The treatment is a nourishing filler that strengthens and repairs. It adds volume and shine to your lashes.
Mink Lash Extensions
Offering 100% cruelty free classic, hybrid & volume mink lashes from my studio in Dublin 18. If you'd like to book an appointment please include the days and times that suit you best in your enquiry.
*Please set aside ample time for your appointment. Please DO NOT wear mascara on the day of your lash appointment. If there is any makeup residue on your natural lashes this WILL affect the lash retention. Your lashes will fall off prematurely. 
**If you arrive to your lash appointment with mascara on your lashes there will be an extra charge for cleaning**
LASH EXTENSION PRICE LIST
Initial Sets
Classic Full Set – €80
1 lash extension is applied to each individual natural lash (approx. 100mins)
Mascara Look – Half Set Classic – €60
1 lash extension is applied to every 2nd/3rd lash (approx. 75mins)
Rapid Volume – €100
Pro-made 3D volume fans – 1 fan applied to each individual natural lash
Hybrid – €90
A mix of pro-made 3D volume fans and classic lashes
Full Set Flat Lashes – €85
Thicker, darker looking lashes without the weight
*For more information on flat lashes see below or please click here
Lash Shampoo & Makeup Remover – €15 
Clean 11 foam is a gentle makeup remover for eyelash extension wearers. Its vegan, cruelty free and free from parabens, silicone, artificial dyes and does not contain any added fragrance 
Lash Removal – €15
Lash In-Fills
In order for a session to be considered a fill, you must have retained at least 50% of your lash extensions from your previous appointment. In-fills are recommended every 3 weeks, anything after this is considered a full set. Up to 3 weeks – removal of outgrown lashes & full infill
Classic Set Fill – €50

Rapid Volume Fill – €70
Flat Set Fill – €55
Hybrid Fill – €60
Flat Lashes (also known as Ellipse Lashes):
Introduced to the lash industry in 2015, these lashes give you a much fuller look without the extra weight. Existing eyelash extensions are designed to be cylindrical, whereas these new lashes are "squashed flat" therefore making the surface area wider and giving the appearance of a thicker extension but without the extra weight.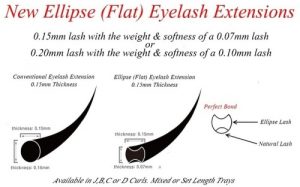 TV Commercials & Advertising Campaigns
I am the lead makeup artist for TBWA Dublin, Advertising Agency who commission me to work on TV commercials & photo shoots for clients including Jameson, BMW, HSE, Government of Ireland, Laya Healthcare, Burger King, McDonald's, SuperValu, Dunnes Stores, Bank of Ireland, Electric Ireland, AIG Insurance and Calor Gas. In this time I have worked with many models and high profile actors & sportsmen.
I have also worked with many production companies and agencies Nationwide and across Europe. Please contact me for further details.