Lashes
Semi Permanent Mink Eyelash Extensions
Eyelash Extensions are an extremely popular beauty procedure in Ireland. There is no comparison between lash extensions and self stick-on strips of false lashes or salon applied cluster lashes that are stuck on to the skin. The lash extensions I use are cruelty free mink lashes and are 100% silk so very lightweight & comfortable to wear. They are applied one-by-one onto the natural lash with a safe, medical grade (FDA approved) lash adhesive that lasts approx 4 weeks or until your natural lashes fall out.
With every lash extension application my aim is to create lashes that look naturally beautiful – as you were just blessed with amazing, long healthy lashes! However I will create a look according to your requirement – so if you've got something entirely different in mind, I can accommodate! You will be given a full consultation prior to your first set, to ensure that you absolutely love your new lashes.
Flat Lashes (also known as Ellipse Lashes)
Introduced to the lash industry in 2015, these lashes give you a much fuller look without the extra weight. Existing eyelash extensions are designed to be cylindrical, whereas these new lashes are "squashed flat" therefore making the surface area wider and giving the appearance of a thicker extension but without the extra weight.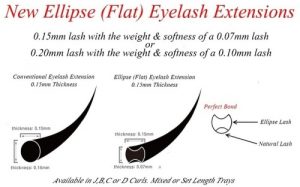 Don't just trust your eyes to any Eyelash Extension Technician – here's why
When PROPERLY applied, you can't feel any difference after your eyelash extension procedure. It should feel completely weightless. Lashes should look full yet individually separated with no clumps. They should be placed correctly, individually and artistically.
When IMPROPERLY applied, your lashes feel heavy and uncomfortable as if you were wearing at home glue-on lashes. There should be no mascara-like clumps, multiple criss-crossed lashes together or gaps.
The Procedure
The procedure takes approximately 90mins for a full-set and 60mins for an in-fill. It's a meticulous procedure that requires patience and concentration; it cannot be rushed to ensure you leave with a perfect set of lashes. You will have your eyes closed and experience no pain, as it's a non-invasive procedure.
How long do they last?
Our natural eyelash growth cycle is every 4-6 weeks meaning our lashes shed naturally and new lashes grow in. Therefore, lash extensions will last the same, as they shed with our natural lash cycle. After about 3 weeks you can expect to have approx 50% of your lashes remaining, depending on your natural hair growth speed AND if you take care of them.
As it is hard to determine at what stage each natural lash is at in the growth cycle when applying the extensions, it is unpredictable when and which lash naturally falls out. Each day we can lose 3 – 5 natural lashes but often they go un-noticed unless they fall into your eye. When eyelash extensions shed we are much more aware of it as we know the extensions are there because they are longer, darker and thicker. Eyelash extensions DO NOT make your natural lashes fall out. If you pull at the extensions, you will pull them along with your natural lashes out. Do not do this!
Lash Extension Price List
Initial Sets
Flat Lashes – €75
Full, thicker looking lashes without the weight
*For more information on flat lashes please see above
Full Classic Set – €70
1 lash extension is applied to each individual natural lash (approx. 90mins)
Mascara Look – €50
1 lash extension is applied to every 2nd/3rd lash (approx. 60mins)
Corners – €30
1 lash extension is applied to corners only (approx. 20 lashes per eye)
Lash In-fills
*In order for a session to be considered a fill, you must have retained at least 50% of your lash extensions
from your previous appointment. In-fills are recommended every 3 weeks, anything after this is considered a full set
Flat Lash fill – €45
Up to 3 weeks – removal of outgrown lashes & full infill
Classic set fill – €40
Up to 3 weeks – removal of outgrown lashes & full infill
Removal
Removal within the first 48hrs – FOC
*Please note if you have a reaction to your new lashes, removal will actually irritate them more and make them worse.
Should this happen please contact your doctor or pharmacist as soon as possible
After 48hrs or lashes from another salon / technician – €15
Instructions Prior to Appointment
Do not wear mascara prior to your lash appointment; you will want your technician spending time applying lashes, not removing mascara. Mascara will also leave a residue on your lashes which will affect your lash retention
Clients who arrive for their lash appointment wearing mascara will be turned away!
Remove all eye make-up and thoroughly clean your lashes with an oil-free make-up remover or baby shampoo
If there is any makeup residue on your natural lashes this WILL affect retention
Do not curl lashes, this will hinder application
Remove contact lenses. If you are wearing contacts to the appointment, bring your contact case to store them in
Set aside ample time for the appointment; it is important for the technician not to be rushed and the time should be seen by the customer as a time to relax, many clients fall asleep during the procedure!
Please dispose of chewing gum prior to your lash appointment
Eyelash extensions are not suitable to those who have: recent laser surgery, conjunctivitis, eye inflammation and painful/sore to touch the eye region or any other eye infection
I reserve the right to refuse service to anyone with any open wounds, active virus, communicable infection or contagious illnesses
Instructions After Application
Do not touch them for at least 3 hours after the procedure
Do not get your new lashes wet (including steam & sweat) for the first 24 hours. This will allow the glue to cure/dry thoroughly
Do not rub the eyes or use a lash curler
Never get oil, oil based products or moisturizer on the lashes as oil degrades the glue and they will fall off
Wear goggles if you can in the shower to avoid the pressure of hot water (this definitely works!)
Make up can still be worn; use only oil free make-up and make-up up remover. I recommend the "Simple" range of products and Micellar Water for removing makeup
Never wear regular mascara on your lashes. If mascara must be worn, ONLY use a specialized one for extensions and apply to the tips only. Mascara applied to the roots of lashes is hard to remove and can build up on the lashes which can lead to infection
The glue is semi-permanent so the lash extensions will fall out along with your own lashes as they fall out naturally. A lash cycle is approx. 6 weeks long and we lose an average of 2-5 lashes a day. Infill's are required approx. 3 weeks after initial application anything beyond 4 weeks constitutes a full set
Do not attempt to remove the extensions yourself as you will remove your own natural lashes as well and they take a long time to grow back when pulled out. It is a simple procedure that your technician can do, free of charge
Brush your lashes regularly
Wash your lashes with a tiny amount of baby shampoo and warm water
They do require you to be gentle with them and rubbing or tugging is out. Similarly, excessive exposure to saunas or steam weakens them as does oil-based mascaras and eye make-up remover.
And remember…
FOR LONGER LASTING LASHES, WASH & BRUSH YOUR LASHES DAILY TO REMOVE NATURAL OILS AND DEAD SKIN CELLS FROM BUILDING UP
DISCLAIMER
I understand the eyelash extension procedure involves gluing on an individual false eyelash onto an individual natural eyelash. I understand that glue will be used to adhere these lashes together and I am aware that (rarely) some individuals can have a reaction to the glue. I have been advised that the glue is ISO approved and does not contain any harmful chemicals. I accept that a patch test is not able to indicate to me if I have something in my system, which will react to this glue. I am happy to go ahead with this treatment and I hereby give my acceptance that I am willing to take this risk. I agree to let my therapist know if I am having a reaction and to follow their advices, I do not expect my therapist to refund me for any work that they have done and I do not hold them responsible for any reaction I may have.
The application therapist holds no liability for my acceptance of this procedure. In no event will Kellie Fitzgibbon Makeup Artist or its directors, officers, owners, employees, independent contractors, suppliers or licensors be held liable for any claims, demands, damages, liabilities, suits, attachments, judgments, losses, penalties, fines, settlements, expenses, including court costs and reasonable attorney fees incident thereto: indirect, special, incidental, economic, consequential, exemplary or punitive damages arising out of the use or misuse of products or services sold by Kellie Fitzgibbon Makeup Artist.
The client shall indemnify, defend and hold harmless Up to My Eyes, at all for all such claims and actions in each case not withstanding the actual of alleged negligence (whether active or passive, sole or concurrent, simple or gross) and statutory, provided that Kellie Fitzgibbon Makeup Artist liability will be limited to the purchase of the product.
Book Now >>>